Parable of the sower af Octavia E. Butler er en af vildeste bøger jeg har læst længe. Det er Lauren Olaminas dagbog, skrevet i årene 2024 – 2027. Bogen starter på hendes 15 års fødselsdag.
Scenariet er et post-trumpistisk mareridt. Alle er bange for hinanden. Dem der kan, lever i gated communities, går kun ud hvis de er flere, og tungt bevæbnede. Uden for er de ultrafattige, de sindsyge og de kriminelle. Det er et psykotisk mareridt udenfor. Ligene flyder bogstaveligt talt i gaderne. Folk vandrer nøgne og blødende rundt, malede galninge, høje på stoffer, sætter ild til alt hvad de kan komme i nærheden af.
Laurens familie lever i et gated community. De er i forhold til nutidens standard fattige. Det meste mad kommer fra haver de selv dyrker. De sparer sammen for at have råd til mindst et par gode sko per person. De håber det snart bliver som før, at det skal blive lidt mere som da forældregenerationen var unge.
Lauren ser nutiden som den er, at deres lille community lever på lånt tid, at selve det samfund de håber bliver som før, lever på lånt tid. Og hun forstår ikke at folk ikke ser det. At folk ikke forbereder sig. Lauren prepper i det skjulte til dagen hvor det går under. Hun forbereder sig til at rejse.
Lauren er sharer, – det vil sige hun lider af en art hyperempati. Pga. hendes afdøde mors misbrug af receptmedicin, føler hun konkret fysisk det, hun ser andre føle. Det er ikke magisk, det er indbildt i en forstand, men det er ikke noget hun kan styre. Da hun var yngre blødte hun spontant igennem huden hvis hun så andre bløde. Hvis hun slår nogen, føler hun slaget selv.
En anden ting ved Lauren er at hun har fundet sin egen religion. God is change. Accepten af altings foranderlighed som religion. Hun kalder den Earthseed.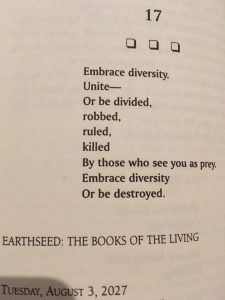 SPOILER ALERT: Hendes lille community bliver brændt ned og næsten alle bliver voldtaget og/eller dræbt. Lauren overlever og begiver sig op ad amerikas vestkyst for at stifte det første Earthseed community.
Bogen føles som et zombie-armageddon. Parable er bare meget mere uhyggelig. Verden er nemlig ikke gået under. De døde går ikke igen, og 95% af alle mennesker er ikke døde. Det er bare folks hverdag. Og de syntes ikke det er så slemt – det bliver nok bedre snart. Men de bor bag en høj mur, og folk udenfor kunne ligeså godt have været hjerneædende zombier. Bortset fra at det er dem selv, der er uden for murene – dem selv under andre omstændigheder. Og det bliver dem selv, da deres community bliver brændt ned. Og det er på en måde meget mere uhyggeligt end zombier.
Og så går det op for en, at der her er blot folk på flugt fordi deres lokale communities er ødelagt. Som flygtninge overalt i verden idag. Og den ravende paranoia, vold og frygt på vejene, er flygningenes hverdag. Bogen er blot en beskrivelse af et USA der bliver til et uland.
Der er en interessant scene, hvor Lauren og hendes lille proto-community har fundet et sted de kan blive og starte på ny. En af hendes rejsekammerater vil hellere rejse videre nordpå. Han har hørt at der er arbejde der betaler cash deroppe – det er det han drømmer om. På trods af alt hvad de har set igennem deres rejse, på trods af hele deres liv, på trods af at alle er underbetalte, alt er dyrt og bliver dyrere, på trods af at gældsslaveriet, så er hans grundlæggende plan, den han falder tilbage på, at finde et tilfældigt underbetalt job, for at tjene penge. The american dream.
Det minder om, at det er lettere at forestille sig jordens undergang, end et alternativ til kapitalismen.
Det er sort og det er dystert. På trods af det er Laurens grundlæggende budskab et om håb, og råb  om at en bedre verden er nødvendig. Ideen om tilpasningsparathed som livsfilosofi føles vigtig i en til hvor det føles som om man ikke kan ændre noget, at vi uundgåeligt er på vej mod afgrunden. I Lauren Olaminas verden er det ligegyldigt hvordan det var før, det der er vigtigt er hvordan vi skaber det der kommer.
Parable of the sower får varmeste anbefaling herfra, og kan i øvrigt lånes på det befriede scifi bibliotek på Maskinen i Svendborg.
GOD IS CHANGE
David